First-in-Human Evaluation of a Bioabsorbable Polymer-Coated Sirolimus-Eluting Stent - The DESSOLVE I Trial - Dr. F.Ballocca
During the last years, the use of drug-eluting stens (DES) became widespread, thanks to the markedly lower restenosis rates compared with bare-metal stents (BMS).
However, a potential link was supposed between the permanet polymer eluting antiproliferative drugs and long term complications, like delayed vessel healing, hypersensitivity reactions, neoatheroma, and restenosis, with the potential for repeat intervention, stent thrombosis (ST), acute myocardial infarction (MI) and sudden death. As an answer to this problem, biodegradable sources of drug delivery were developed; one of these is MiStent Sirolimus Eluting Absorbable Polymer
Coronary Stent System, or MiStent (Micell Technologies, Durham, North Carolina) sirolimus-eluting stent (SES).
The DESSOLVE I is the first in human prospective, nonrandomized, multicenter trial to evaluate the safaty and efficacy of MiStent APSES in the treatment of symptomatic ischemic heart disease.
30 patients with stable or unstable angina that implanted MiStent were enrolled in 5 centers between November 2010 and March 2011, and they were sudied with angiographic, intravascular
ultrasound (IVUS), and optical coherence tomography (OCT) imaging at 4, 6, 8, and 18 months, as well as clinical outcomes through 18 months of follow-up, as reported in Figure 1.
The primary endpoint of the study was angiographic in-stent late lumen loss (LLL); the procedural secondary endpoints included device success, lesion success and procedural success; the invasive secondary endpoints, evaluated at 4, 6, 8, and 18 months of follow-up included inlesion LLL, percentage of diameter stenosis, MLD, and binary restenosis of the treated lesion.
The clinical secondary endpoints included major adverse cardiac events (MACE), defined as all deaths, Q- and non-Q-wave MI, and target vessel revascularization (TVR); rates of overall and target vessel Q-wave MI and non-Q-wave MI; rates of clinically driven TLR, TVR, and target vessel failure; and rates of stent thrombosis, adjudicated according to the Academic Research Consortium definitions.
The median (range) in-stent late lumen loss (LLL) was 0.03 mm (0.22 to 0.21 mm), 0.10 mm
(0.03 to 1.2 mm), and 0.08 mm (0.01 to 0.28 mm), at 4, 6, and 8 months, respectively, and 0.08 mm (0.30 to 0.46 mm) at 18 months.( Fig.2) Neointimal volume obstruction on IVUS increased from a median of 5.3% to 9.1% between 4 and 6 months and stable thereafter during the whole follow-up, and neointimal thickness on OCT was stable between the early and 18-month follow-up, indicating stent efficacy. (Fig 3) The only recorded major adverse cardiac event was a myocardial infarction, and no stent thrombosis occurred.
Therefore MiStent is at least as effective and safe as the durable polymer-based SES; further randomized trials with longer follow-up are needed to confirm these data.N JACC Cardiovasc Interv. 2013 Oct;6(10):1026-34.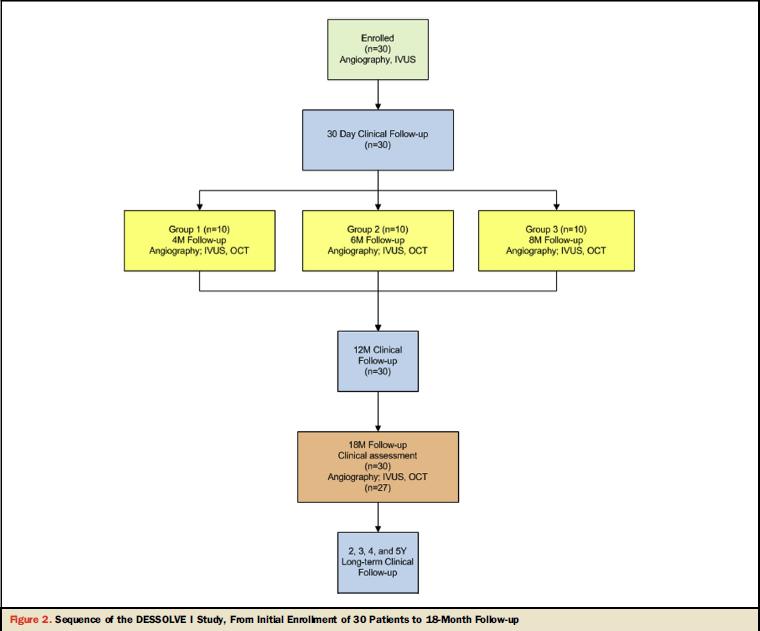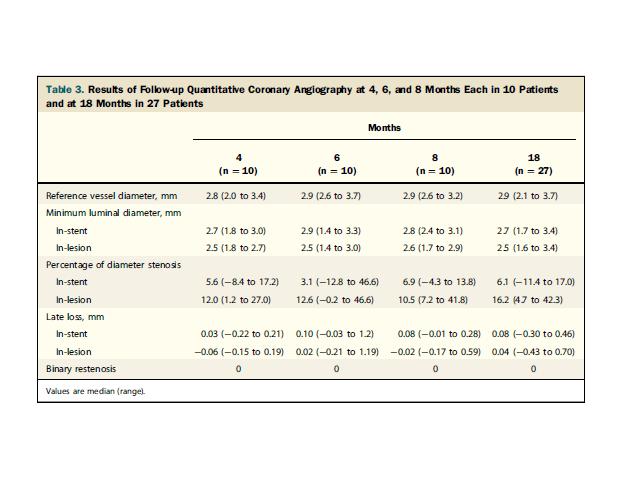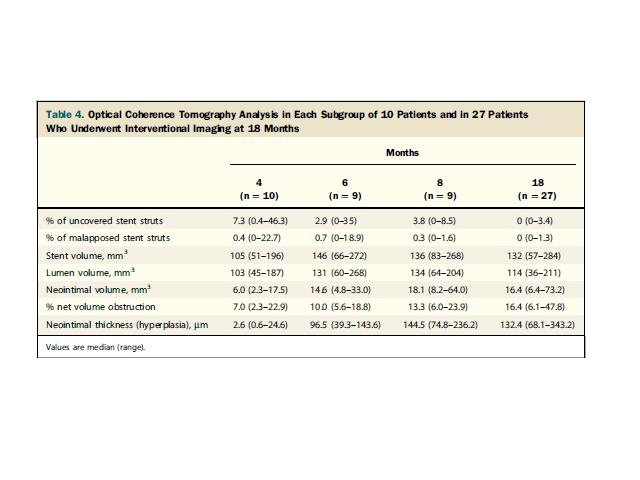 writed at 23-11-2013 12:32:23